Support Services & Medication Management
We've learned that when someone allows you to care for them in their home, there is a bond that forms. For this reason, we look out for our clients' needs even when they may not relate directly to our home care services. We value our clients' privacy and independence but are ready and willing to provide guidance and some extra hand-holding when their needs go beyond what our caregivers can provide in the home.
Support Services
Supplemental services provided by a multi-disciplinary team of nurses, claims specialists and branch managers.
Client requested nurse visit
Post-hospital re-assessment by a nurse if the client's status has changed
Nurse to attend physician appointments with client
Coordinating appointments and medical follow-up
Frequent care plan changes requested by the client
Processing insurance claims
Insurance billing and/or benefits review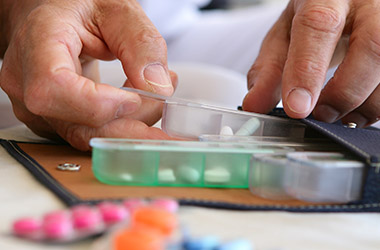 Medication Management
Weekly visit to fill medication box
Manage prescriptions and verify with physicians
Communicate with physicians regarding client's medical status
Uphold medical compliance and reduce hospitalizations
Want to learn about our other services? Click here
What Others Are Saying About Bayshore Home Care
"GREAT provider of Home Health Care with dedicated and thoughtful team members in all areas of service. Their company comprises the best of the best in responsible and caring professionals!" E.N."

"This company takes superior care of their clients! Would highly recommend!" L.S."

"So thankful for this company!" H.H."

"They never disappoint me...if I need someone last minute..they always come through..."

"90% of home health aides are good to excellent!" A.Y."

"For dependable and affordable medical attention at home, you can take my advice and call Bayshore Home Care, the company that has helped me quite a few times with its great services. I would recommend this company to all my friends for such emergency requirements." J.P."

"Wonderful company! They treat their patients like family." J.M"

My husband and I took a trip to New York recently and we would be away from my mother at home. I was nervous about having someone in my home 24/7 but your caregivers did a fabulous job. The scheduling department made me feel so confident about making a trip ...

I just wanted to let you know that I appreciate everything that Bayshore is doing for my mother.  You folks are going above and beyond!  - Sarah

I wanted to follow up with gratitude for all of the help and coverage that you provided for us this winter.  It was amazing & helped both my folks & the family so very much. It also provided for peace of mind. We wish we had your services here in ...

I came to town to visit my mother and I have found everything to be going just perfect! Thank you. – Florence

We are blessed to have you as an agency that that truly cares about our Veterans and goes above and beyond. - Bay Pines VA Healthcare System, Nurse
Read More
Awards and Professional Affiliations