Mary G. Weiss moved to Florida's sandy beaches for much more than a sun-kissed glow. It was to save the lives of her three young children. Mary, who is now 78 years old is a resident of Canterbury Towers along with the help of Bayshore Home Care. Mrs. Weiss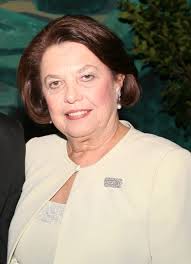 became a volunteer with the Cystic Fibrosis Foundation in 1965 when her three children were diagnosed with the disease. When her son, Richard, was diagnosed, the family was living in Montreal.  The doctors told her at that time, "take him home, play with him, and enjoy him because he most likely won't live to be older than 8 or 9."  Mary refused to believe that.  She moved her children to Palm Beach because the doctors told her that the climate in Florida would be better.  They lived on the water because the salt water was also beneficial.  She had a neighbor named Buddy Brenner, who came over one day and said "what are WE going to do about this?"  That is how all of her hard work over the last 50 years began.  Her work has helped to grow awareness about Cystic Fibrosis.  She started out by hosting a tea at her condo.  Those small gatherings eventually grew into a brunch at the Flagler Museum. Today the Palm Beach affairs are known as "65 Roses," and they are hosted at the Breakers.   She invited anyone who she felt could help.  When Mary began her quest for a cure, she began to call every Civic Club, social and service organization looking for donations for research. There was an Oscar de la Renta Fashion show at Saks, and Rose Kennedy was a guest.   As Mary was making her calls one day, Richard who was 4 at the time, came in and told his Mom "I know what you are working for."  Mary was surprised by this because Richard didn't know he had Cystic Fibrosis.  She asked him "What am I working for Sweetheart?" He answered, "You are working for 65 Roses." Instead of hearing Cystic Fibrosis, he heard 65 Roses.  From then on, the term 65 roses has been used by children of all ages who are fighting Cystic Fibrosis.  She can still remember he was wearing the cutest yellow seersucker striped shorts outfit when he said those words to her.
Cystic Fibrosis is an inherited chronic disease that affects the respiratory system, the digestive system, and the reproductive system.  The disease causes excess thick sticky mucous which clogs the patient's lungs, obstructs the pancreas and stops natural enzymes from helping the body break down and absorb food.  Unbeknownst to Mary and her husband Harry, they were both carriers of the disease. The statistics show that if both parents are carriers, there is a 25% chance your child will have the disease and a 50% chance your child will be a carrier.
Arthur passed away at the age of 36 and Richard lost his battle at the age of 52.  Anthony who is now 50 years old is living in Tampa.  Mary has spent almost 50 years getting the word out.  This coming January will mark the 50 year Anniversary of her quest for a cure.  Mary says early detection is the key to living a longer life.  Her family motto was "Always be optimistic and always be honest!"  That motto allowed her to travel at times, and not have to worry about whether any of her boys were not doing okay.   Mary's purpose in life has been to keep her kids alive, and she is hoping that one day soon CF will stand for Cure Found.
By: Lisa Shively, Bayshore Home Care