5 Major Reasons of Availing Home Health Care for Dementia Patients 
Dementia patients need special care for leading day to day lives. If your close one is suffering from this disease, Bayshore Home Care can provide home health care to them in Florida, Clearwater, Pasco County, Hillsborough County, Pinellas County, Tampa.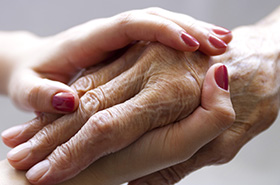 If you are still not sure about this, please read on. 
Personalized and specialized care: Home health care for dementia patients provides personalized care tailored to the individual's specific needs. Caregivers who are trained in dementia care understand the unique challenges and symptoms associated with the condition. They can provide specialized assistance with activities of daily living, medication management, and emotional support.

 

Familiar environment: Dementia patients often feel more comfortable and secure in familiar surroundings. Being at home allows them to maintain a sense of familiarity and continuity, which can help reduce anxiety and confusion. Familiar surroundings can also stimulate memory and improve overall well-being.

 

Individualized routines: Home health care allows for the establishment of individualized routines that cater to the specific needs and preferences of the dementia patient. Maintaining a consistent daily routine can help reduce agitation and provide a sense of stability for the individual. Caregivers can work closely with the patient and their family to develop a customized plan that promotes the highest level of functioning and comfort.

 

Family involvement and support: Home health care encourages family involvement and support in the care of the dementia patient. Family members can actively participate in the caregiving process, providing companionship and maintaining important relationships. They can also receive education and training from professional caregivers to better understand the condition and learn effective communication strategies.

 

Cost-effectiveness: In some cases, home health care for dementia patients can be more cost-effective compared to institutional care options such as nursing homes or assisted living facilities. The cost of round-the-clock residential care can be significantly higher than receiving care at home. Additionally, home health care services can be customized based on the specific needs of the patient, allowing for more flexibility in terms of cost management.

 
It's important to note that the decision to pursue home health care for a dementia patient should be made in consultation with healthcare professionals and considering the specific circumstances and needs of the individual. Do not think further and give us a ring now.