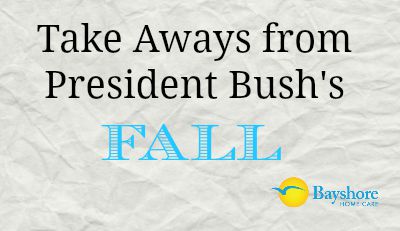 Falls can happen to anyone; even a former president as we learned last week.
A few of the keys to fall prevention are to take extra precautions if you are unsteady on your feet, have had a recent hospitalization, change in medications, or change in condition. You can do this by enlisting the services of a private duty home care agency. These professionals will offer stand-by assistance to make sure that seniors safely walk and make transitions in positions (example, sitting to standing). Personalized assistance in the home offers seniors not only companionship, but also security and safety. Private duty in home care is one of the most effective measures that can be put in place to help seniors maintain their health, and activity; keeping them out of the hospital.
The key to living the longest, strongest life possible is to prevent falls. Recovery for seniors can be long and difficult. Although President Bush's fall caused only minimal injury, Physicians predict his recovery will take 3-4 months.
Here are some simple steps you can take to make your home safer for aging in place.
Take a quick fall risk assessment to determine your likelihood of falling here.
Read about the 10 myths of older adult falls here.