Most of us have that one elderly family member who might need in-home care. Once you finalize on that and decide to get started, we, at Bayshore Home Care, will send you our different schedules of home health services. Being in this business for over 3 decades now, we very well aware of the struggles of maintaining their safety all the while keeping their independence. Our team consists of children of senior citizens; hence they know that home is the place they would feel the most comfortable in. We have always believed in delivering peace of mind at your doorstep instead of shifting you to a facility. Our caregivers are all licensed, bonded, and insured employees trained to ensure they excel in nursing skills.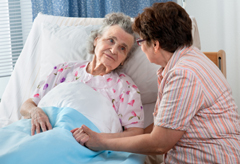 Below we have mentioned 3 things you can expect from our senior health care services. Take a look.
Complimentary phone consultations
Not all help needs physical attention, some minor issues can be dealt with over a telephonic conversation too. If you have a problem, you can give us a call; we have specially trained personnel who are ever ready to listen to your needs, discuss options, and guide you accordingly.
We follow an open communication system, our managers will always follow up on whether you are receiving the help you are entitled to, and if you are satisfied with it or not. Our caregivers are constantly monitored by their nurse supervisors.
It has always been a team effort for us. Before we start with our services, our caregivers will work as a team to discuss the different ways to treat the issue at hand of every client of ours. These teams are skilled in assessing the needs of your loved ones and suggesting a care plan.
So, if you are looking for health care services in the regions of Clearwater, Tampa, Pinellas County, Pasco County, Hillsborough County, and St. Petersburg, you can give us a call.