If you or a loved one is sick or injured, home health care is a service that is offered to you at your house. Home health care is less expensive, more efficient, and comparable to a hospital or skilled nursing facility care (Skilled nursing facility). It constantly reminds us that we are ill. However, when you are treated at home, the atmosphere appears to be different. Even though we are treated at home, we lose sight of the fact that we are ill. As a result, home health care services make the recovery process go more quickly and smoothly. Let us see some of the factors of home health care: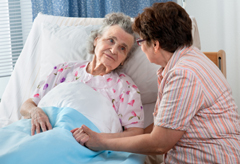 When compared to nursing homes and hospitals, the environment at home is somewhat different. We feel comfortable and at ease when we are surrounded by loved ones. We don't mind if no one looks at us as we're going about our everyday routines.
An aide is always required to look after a person who is injured or unwell. As a result, looking after the house and the kids might be a stressful undertaking. As a result, home health care can assist us with daily chores such as bathing, changing clothing, eating, and so on.
Our crew at Bayshore Home Care is bonded and pleasant. We feel that all of our clients deserve to be loved and cared for.
We make certain that they are not left alone and unsatisfied with their demands. We make every effort to persuade our clients that they are receiving safe, knowledgeable, and excellent service from beginning to end. We ensure that their well-being and happiness are our top priorities. Our services are offered in Florida, Clearwater, Pasco County, Pinellas County, Hillsborough County, and Tampa.