Do you have ailing senior citizens at home? Are you always busy and hardly have the time to look after them? Well, there is an easy solution for you. All you have to do is simply hire a home health care service. Professional and efficient home health aides can take care of every kind of need that a senior family member has. Along with understand the kind of care they need for their physical well-being, these health care professionals will also take care of their personal hygiene, regular grooming, and assist them in their various tasks at home. Right from folding clothes, combing hair, to how to prepare a meal, or simply talking to them, everything can be availed if you opt for these home health care services. We, at Bayshore Home Care, can help. We are a licensed, bonded insurance company with over 30 years of experience. We can offer you a team of caregivers and home health aides which will help your elderly family members recover faster and also save them from depression and loneliness. So, if you are located in areas like Clearwater, Florida, Hillsborough County, Pasco County, Pinellas County, or Tampa, you can rely on us.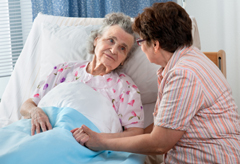 Here, we have put together a few common questions that you must ask your home health care service. Take a look.
Which kinds of services do you cover in your home healthcare?
Every company differs from one another in their home care services. That is why you ask the company about the services they cover so that you can understand if it is going to help your senior citizens or not.
Do you offer free quote facilities?
Everyone has a set budget even while hiring such services. So, you have to make sure that the company you are hiring can provide you with free quotes. This will help you understand if it meets your budget or not.
After asking such questions, if you think we can be the right choice for you, then contact us today.